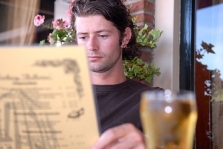 Menu Labeling
Menu Labeling
Background
Effective in May 2017, the U.S. Food and Drug Administration (FDA) will require disclosure of calories and other nutrition information for standard menu items on menus and menu boards.  All chain restaurants and similar retail food establishments with 20 or more locations nationwide must make these disclosures, but many grocery and convenience stores, bowling alleys, movie theaters, sports venues and vending machines, will be subject to the rules as well.
There is guidance from FDA to help businesses comply with the menu labeling rules, including how to list calories for alcohol beverages, including beer.  In general, FDA expects a separate calorie disclosure for every alcoholic beverage, including every beer on a menu, especially if beers are listed by brand name or style.  The calories must be specific to the beer or style and to the serving size(s) offered.
Some restaurants may hope to use a single calorie reference for all beer they offer, but the circumstances under which that can happen are limited.  It is allowed if  all the beers on the menu actually have the same calorie count, but a single calorie reference for all the beers will not work if the calories don't match.   Similarly, if a menu doesn't list specific brands but instead, uses generic terms like "beer," or "light beer," the menu may provide a calorie range (e.g., 95-150 calories).
Since most beers are listed by brand name, style, or category and the calorie counts are unlikely to match, you can expect restaurants to list specific calories for each beer offered according to the serving size(s) offered. Restaurants will also need to make additional nutrition information available upon request, including calories, calories from fat, total fat, saturated fat, trans fat, cholesterol, sodium, total carbohydrates, dietary fiber, sugars and protein.
The rules say that restaurants and other retail establishments may use a variety of sources, including databases, laboratory analysis and recipes to calculate calories and determine nutrient disclosures, so long as there is a "reasonable basis" for the calories and nutrients selected and disclosed.   We expect most chain restaurants and similar food establishments to look to individual brewers and beer importers for brand-specific calorie and nutrient information.
A restaurant might also look to the USDA database for nutrient information, but they must have a "reasonable basis" for relying on that database for menu disclosures. Unless the item on the menu is a good match for an item in the USDA database, the restaurant may not have a "reasonable basis" for relying on the database. The USDA database is currently limited in terms of information regarding beer, so it may not always be a "reasonable" source.  Again, we expect most chain restaurants and other retail establishments to ask product producers for calorie and nutrient information.
Finally, FDA says that a restaurant or other similar food establishment may reasonably rely on an on-product serving facts disclosure under TTB 2013-2 for a beer calorie disclosure.
Many food establishments are already taking steps to prepare for the May 2017 implementation date by analyzing or verifying nutrition information for their various offerings. Thus, brewers and importers should prepare for requests for calorie and nutrition information about their products.
The compliance deadline for the menu labeling rules will be May 5, 2017.
Beer Institute Position
Brewers and beer importers support consumer education, especially when it comes to informing the public about what they are drinking. Eighty percent of beer is sold in a 12 ounce bottle or can, and more than 45 percent of beer sold is light beer, with a relatively low caloric and alcohol content. The FDA recognized in this rule that recipes for cocktails and hard liquor drinks that are not on the restaurant menu can vary greatly in alcohol and other nutritional content. The FDA decided in its rule that it would be too confusing to even determine the nutritional information for those drinks. We agree with the FDA that there is no standard drink in typical and customary drinking occasions. Beer provides consistency and offers the lowest ABV among alcohol beverages. We support calorie labeling of each beer listed on menus in restaurants and retail establishments. In addition, we want to ensure that calorie and other nutrition information on menus are calculated and rounded according to the Tax and Trade Bureau (TTB) voluntary nutrient content statements for packaged beer.
The FDA's final guidance document on menu labeling rules is aligned with the Beer Institute's position on menu labeling.
Additional Resources
On September 11, 2015 the FDA issued final Guidance on the Menu Labeling Rules that will take effect on December 1, 2016. To read the comments, click below.
Link to Site
Click here to see the FDA's final regulations on menu and vending machines labeling requirements.
Link to Site