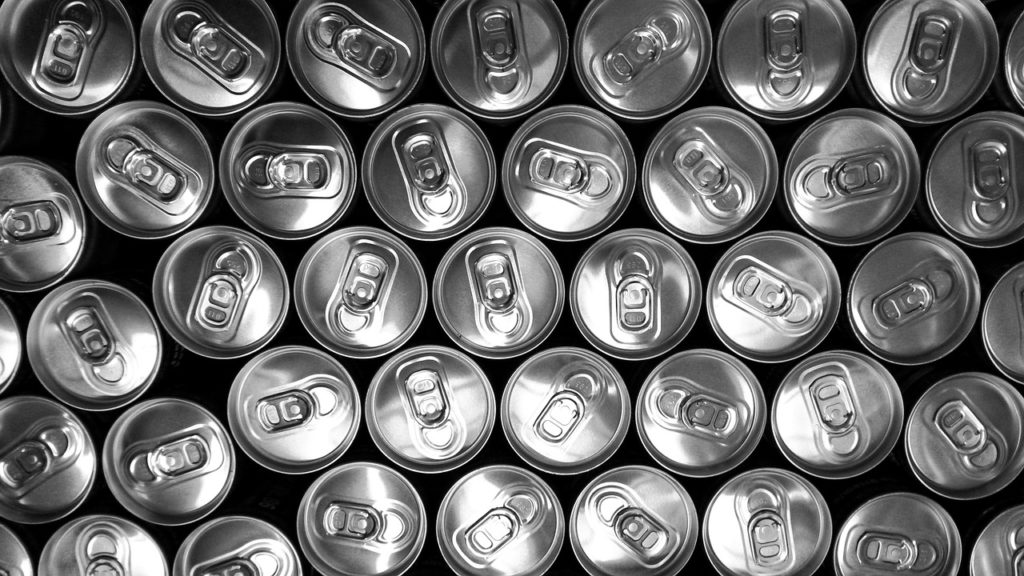 Background
On March 23, 2018, President Trump formally imposed a 10 percent tariff on all imports of primary aluminum, not originating from Canada and Mexico. While we appreciated President Trump's sincere commitment to protecting American jobs, the unintended consequence of this tariff has had a significant adverse effect. We call on the Biden Administration to repeal these tariffs.
Aluminum and the U.S. Beer Industry
There are more than 6,600 active breweries in the United States, supporting nearly 2.4 million American jobs. Imported primary aluminum and cansheet are critical to the beer industry as more than 74 percent of all beer produced and sold in the United States is packaged in aluminum cans and aluminum bottles. In 2020, brewers bought more than 41 billion aluminum cans and bottles, and aluminum is the single largest input cost in American beer manufacturing.
U.S. businesses that use cansheet purchase aluminum by paying a Midwest Transaction Price (MWTP). The MWTP consists of two major components: an underlying base price for the aluminum metal as traded daily on the London Metal Exchange (LME) and an additional premium above the LME price known as the Midwest Premium (MWP).
The Increasing Cost of Aluminum
The MWP, created by metal producers years ago, was initially intended to cover the logistical costs of moving metal into North America – similar to a shipping and handling fee. Unfortunately, due to the combination of recently imposed tariffs on imported primary aluminum and the complicated and obscure benchmarking method to set the Midwest Premium, the cost to manufacture beverage cans has increased dramatically. Since the tariffs went into effect in March 2018 to January 2023, America's beverage industries paid $1.893 billion ostensibly because of Section 232 tariffs for aluminum cansheet. However, during the same time, the U.S. Treasury only collected 7% of this sum totaling about $126 million.
Even though the United States exempted aluminum imported from Canada from the 232 tariffs in May 2019, between May and January 2023, Canadian smelters received $174 million from tariffs– more than the U.S. government ($126 million) or U.S. smelters ($145 million).
Additionally, more than 70% of domestic cansheet is made from recycled scrap aluminum, which is also not subject to Section 232 tariffs; however, America's beverage companies, both non-alcohol and alcohol, are still charged the full "tariff-paid" premium which has resulted in increased manufacturing costs for local brewers and bottlers.
Why is this happening?
Why? Under current law, no federal agency has oversight over setting the Midwest Premium. As a result, companies in the aluminum supply chain charge the Midwest Premium, a price that reflects the full tariffed price of aluminum, even on aluminum, not subject to the tariff.
However, most of the aluminum sold in the United States comes from countries that are not subject to the tariff. In the case of aluminum cansheet, most is not subject to a tariff because it is made from recycled scrap aluminum. Despite this fact, brewers are paying the full "tariff-paid" premium, which has resulted in increased manufacturing costs for domestic American brewers. Importantly, so long as the U.S. needs to import aluminum, even negligible amounts, from countries subject to tariffs, all aluminum, including scrap, will reflect that pricing premium.
As opposed to the Midwest Premium, the LME component is traded on an open exchange where global aluminum producers and users can discover a fair and transparent price for the actual metal. The MWP, on the other hand, is set by only one entity, which enjoys a unique, unregulated, and non-transparent controlling influence over benchmark pricing for commodity markets through an opaque polling system consisting of mainly traders, banks, and producers, speculating on price, for which consumers, such as beverage companies, have no choice but to pay.
Beer Institute Position
In order to compete, American brewers need a fair and transparent pricing system for aluminum. The Beer Institute supports the repeal of the 232 tariffs establishing tariffs on imported aluminum.
To provide transparency to aluminum benchmarking entities, the Beer Institute supports passage of the Aluminum Pricing Examination (APEX) Act. This commonsense legislation, which was been introduced in both the 116th and 117th Congress, would provide the Commodity Futures Trading Commission and Department of Justice the necessary authority to provide oversight over price benchmarking entities, including those that publish the Midwest Premium.
The Beer Institute also supports efforts from a bipartisan coalition of members of Congress who have requested the Department of Commerce and Department of Justice investigate the unregulated MWP to ensure pricing irregularities and other unfair market practices do not disproportionately have a harmful effect on end-users of aluminum.
To provide a much-needed analysis of aluminum markets, the Beer Institute requests an investigation by the Department of Justice and Department of Commerce into aluminum pricing practices.
Other Resources
Statement of The Beer Institute Regarding Investigation 332-591, Economic Impact of Section 232 and 301 Tariffs on U.S. Industries Most Affected to the International Trade Commission