Advertising & Marketing Code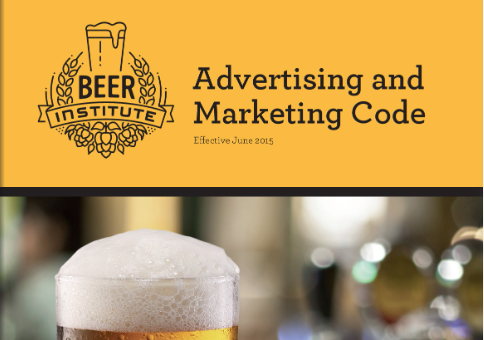 Beer is a legal beverage meant to be consumed responsibly by adults of legal drinking age. Its origins are ancient, and it has held a respected position in nearly every culture and society since the dawn of recorded history.
In the United States, beer is a product category with broad cultural acceptance and a history of memorable and distinctive advertising that, because of its humor and creativity, has long been a favorite among American adult consumers. Advertising and marketing materials are legitimate efforts by brewers to inform consumers of the particular styles and attributes of numerous beers and other malt beverages that are available. Brewer advertising and marketing materials also foster competition, persuade adult consumers of beer to try particular brands, and maintain customer loyalty.
Brewers should employ the perspective of the reasonable adult consumer of legal drinking age in advertising and marketing their products, and should be guided by the following basic principles, which have long been reflected in the policies of the brewing industry and continue to underlie this Code:
Beer advertising should not suggest directly or indirectly that any of the laws applicable to the sale and consumption of beer should not be complied with.
Brewers should adhere to contemporary standards of good taste applicable to all commercial advertising and consistent with the medium or context in which the advertising appears.
Advertising themes, creative aspects, and placements should reflect the fact that Brewers are responsible corporate citizens.
Brewers strongly oppose abuse or inappropriate consumption of their products.
The term "beer" as used in this Code covers all types of malt beverages, including but not limited to, beers and flavored malt beverages, as well as various specialty products containing alcohol such as hard cider. The production, distribution, and sale of beer in the United States are subject to extensive laws and regulations, enforced by federal, state, and local governments. Federal and state laws establish a three-tiered distribution system for beer. The first tier is composed of beer manufacturers and importers, which are referenced throughout this Code as "Brewers." The second tier is made up of wholesale distributors, and the third tier includes a wide range of licensed retail outlets, at which beer is sold to consumers. Companies in each tier of this distribution system are required by law to maintain their commercial independence. The Beer Institute encourages all with whom Brewers do business to adhere to the law, as well as this voluntary Advertising and Marketing Code.
Please take a moment to review our guidelines and provide any appropriate feedback.
PLEASE NOTE: On July 26, 2022, the Beer Institute amended the Advertising and Marketing Code to include an updated audience demographic of no less than 73.6% legal drinking age adults, in line with 2020 Census data. You can read more about this decision here.
PLEASE NOTE: On December 19, 2022, the Beer Institute revised the Advertising and Marketing Code to address alcohol variants of non-alcohol products by adding:
"Advertising and marketing materials for the alcohol variant of any non-alcohol product, including but not limited to packaging, should be readily distinguishable from the advertising and marketing materials of the non-alcohol product to not confuse consumers about the alcohol nature of the alcohol variant. Advertising and marketing materials, including but not limited to displays, signage, and sampling, should not feature both the non-alcohol product and the alcohol variant."
You can read more about this update here.
Advertising Complaints
If you wish to send an advertising complaint to a brewer, please fill out the Code Compliance Review Board (CCRB) advertising complaint form below or email adcode@beerinstitute.org. Your complaint will be forwarded to the appropriate brewer, and the brewer will contact you with a response. This is for all complaints that have not been previously submitted to a brewer.
If you have filed an initial complaint and received a response from the brewer and would like to have your complaint reviewed by the third-party Code Compliance Review Board (CCRB), you may complete the form and the third-party review process will be initiated. The CCRB will notify you of its findings.
View CCRB Annual Reports:
2019-2020 Code Compliance Review Board Annual Report
2017 Code Compliance Review Board Annual Report
2014-2016 Code Compliance Review Board Annual Report
2012-2013 Code Compliance Review Board Annual Report
2010-2011 Code Compliance Review Board Annual Report
2008-2009 Code Compliance Review Board Annual Report
2007 Code Compliance Review Board Annual Report