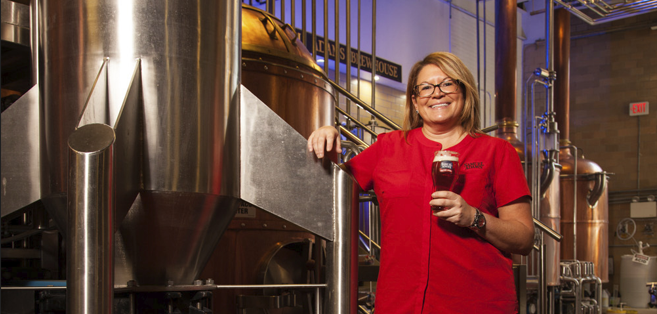 Brewer and Director of Brewery Programs — Boston Beer Company
Boston, MA
When I first applied to work at Boston Beer Company 22 years ago, the job description listed every responsibility at the brewery except brewing, and I thought it was an excellent opportunity to challenge myself and learn a new industry. When I was offered the position, our founder, Jim Koch, and Brewing Director, David, explained that they could teach anyone to brew, but they loved the experience I brought to the table. It was so exciting being invited to join an organization that valued their employees and invested so much in training and development.
They certainly followed through! I was fortunate enough to attend Doemens Academy in Germany learning the ins and outs of brewing and ingredients. Before I knew it, I was back in Boston running the brewery. The opportunities truly felt limitless, which is an experience I now get to pay forward as Director of Partnerships through my involvement with beer collaborations, many of our programs and our core Samuel Adams philanthropic program: Brewing the American Dream. Through this program we support food and beverage entrepreneurs, providing access to much-needed capital, business mentorships and coaching.
Since 2008, our Boston Beer Company coworkers have coached over 14,000 entrepreneurs. It is a remarkable opportunity to engage with underrepresented communities within the industry. Notably, over 50% of these businesses are female-owned, and 75% identify as businesses of color. Making beer is awesome, but it's been an incredible experience to working with these entrepreneurs and other brewers as they navigate the challenges of owning a small business. I am proud of the work we do to support these hard working, passionate food and beverage craftspeople so they can do what they love, provide for their families, create local jobs, and help grow vibrant communities. Because as we see it, we're all in this together.
Cheers!