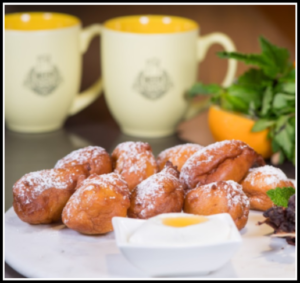 Image of Citrus, Ricotta Donuts taken for the Beer Institute. Recipe was created by Chef Laurent Aubel.
Ingredients
¾ cup all-purpose flour
1 tsp. baking powder
¼ cup sugar
3 eggs
¾ cup ricotta
1 vanilla bean, split and scraped
1 tsp. lemon zest
1 tsp. orange zest
6 Tbsp. lager beer
Vegetable oil for fryer
Ingredients – Whipped Cream
1 cup heavy cream
6 Tbsp. powdered sugar
Preparations
In a medium bowl combine all the dry ingredients, slowly stir in beer, ricotta, citrus zest and vanilla bean.  Combine mixture until smooth.  Let dough rest for 30 minutes.
Preheat deep fryer to 350 degrees F.
Use an ice cream scoop to proportionately add mixture to the fryer.  Cook donuts for approximately 6-8 minutes depending on size.  Remove from fryer when donuts are golden brown.
In a medium-sized bowl combine heavy cream and powder sugar, whisk until you obtained a nice creamy texture.