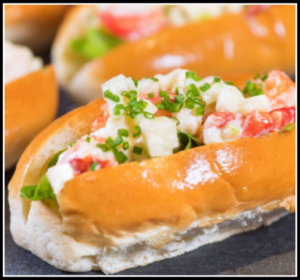 Image of Lobster Roll with IPA taken for the Beer Institute. Recipe was created by Chef Laurent Aubel.
Ingredients
6 New England style buns
3 fresh lobsters
2 baby gem lettuce washed and sliced finely
1 cup mayonnaise
1 lemon, juiced
1 celery stalk, diced
1 green apple, diced
1 tsp. Old Bay
4 bottles of IPA
1 onion, peeled and chopped
Water
Salt and pepper
Preparations
In a large stockpot over medium-high heat, bring beer and chopped onions to a boil.  Add the lobsters head first into the pot and cover.  Return beer to a low-boil and steam lobsters for approximately 7-8 minutes per pound. Lobsters will be bright red when done.  Remove lobsters and put them in ice water. Remove the meat and cut into bit sized pieces.
In a separate bowl, combine celery, apples, mayonnaise, Old Bay, and lemon juice.  Slowly add in lobster until combined.
To Assemble:  Toast the New England style buns (with butter if desired).  Layer with a lettuce leaf and top with lobster mixture (sprinkle with celery salt if desired).