Dark Chocolate Stout Brownie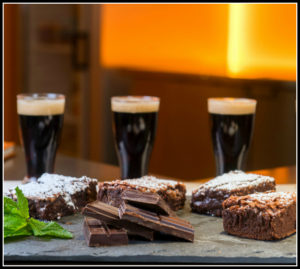 Image of Dark Chocolate Stout Brownie taken for the Beer Institute. Recipe was created by Chef Laurent Aubel.
Ingredients
2 cups dark chocolate chips
1 ¼ cups butter
1 cup stout beer
4 eggs
1 ½ cups sugar
1 ½ tsp. salt
1 cup bread flour
Preparation
Preheat oven to 325° F.
Grease and flour an 8×8-inch square baking dish.
In a large saucepan over low to medium heat, melt butter and chocolate. Remove from heat and stir in sugar, eggs and stout beer. In a separate bowl, combine flour and salt.  Slowly fold in dry mixture to wet mixture, mixing until combined. Pour batter into prepared baking dish. Bake in preheated oven for 30 minutes.