Grilled Artichoke with Shandy Vinaigrette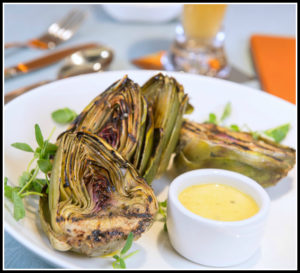 Image of Grilled Artichoke with Shandy Vinaigrette taken for the Beer Institute. Recipe was created by Chef Laurent Aubel.
Ingredients
4 artichokes, medium size
2 lemons juice, fresh squeezed
4 garlic cloves, chopped
1 shallot, finely chopped
¼ cup extra virgin olive oil
¼ cup shandy beer
salt and pepper
Preparations
Bring to boil a large pot of water, add 1 pinch of salt, add the artichokes to boiling water for 20 minutes. Removed artichokes from the water to a plate and let cool down. When cool enough to handle, cut the artichokes in half length-wise.
Shandy Vinaigrette
In a small bowl or jar, add shandy beer, garlic, shallots, fresh squeezed lemon juice and olive oil stir or shake until combined. Brush the artichokes with the vinaigrette and place them on the grill for approximately 5 minutes on each side (do not allow them to burn).
To serve, remove the artichokes from the grill and drizzle some of the remaining vinaigrette on top.