Lager and Miso Glazed Salmon Salad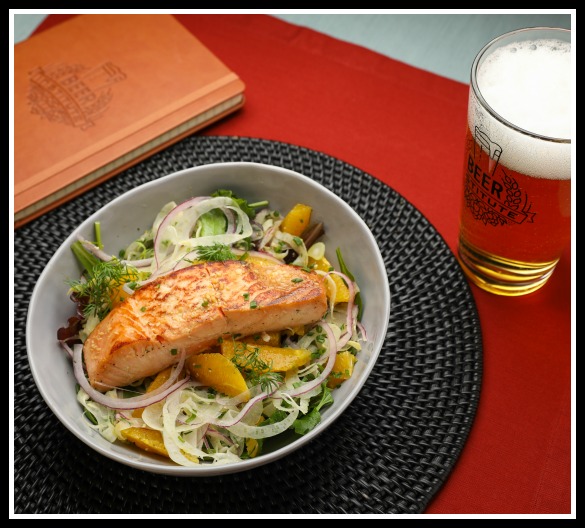 Salad Ingredients
(2) 7 ounce pieces of salmon
1 fennel, shaved
½ red onion, shaved
1 tsp. dill, chopped
1 hand full of mixed greens
1 orange, cut in segments
Marinade Ingredients
2 Tbsp. rice vinegar
2 Tbsp. miso
2 Tbsp. lager beer
Salt and pepper
½ cup extra virgin olive oil
Preparation
Prepare marinade by combining all ingredients into a salad shaker or bowl.
Place salmon in a shallow dish and cover with marinade (be sure to leave a little to dress your salad).  Cover and refrigerate for at least 30 minutes.
Preheat oven to 350 degrees F.
Remove salmon from marinade and place salmon, skin side down on a baking sheet lined with parchment paper. Bake for 10-12 minute, until cooked thoroughly.
In small bowl, mix all salad ingredients except salmon, adding the marinade/dressing, toss gently.
To serve, plate the salad mix and top with cooked salmon.