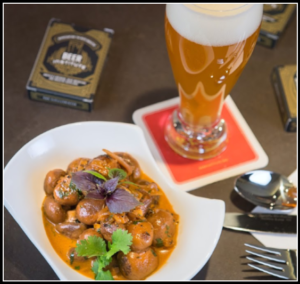 Image of Mediterranean Mushrooms taken for the Beer Institute. Recipe was created by Chef Laurent Aubel.
Ingredients
½ Spanish onion, chopped ¼ inch slices
2 garlic gloves, smashed
1 lb. cremini mushrooms, cleaned
1 lemon, juiced
1 orange, juiced
½ cup wheat beer
½ cup extra-virgin olive oil
1 tsp. tomatoes paste
1 bunch thyme
2 bay leaves
10 coriander seeds
1 star anise
1 cinnamon stick
1 tsp. fresh cilantro, chopped
Salt and pepper to taste
Preparation
Clean mushrooms and set on a paper towel to dry. In a medium sauce pan, over medium-high heat, add the olive oil, onion, garlic, spices (thyme, bay leaves, coriander seeds, star anise, and cinnamon stick), and mushrooms and sear them until they turn golden brown in color.  Add wheat beer, tomato paste, and the juice of one lemon and one orange. Bring to boil then turn down the heat to medium-low and simmer for approximately 20 minutes.  Remove from heat and season with salt and pepper to taste.  Allow the mushrooms to cool down to room temperature then add the chopped cilantro.  This dish can be made ahead of time and store in the refrigerator for 2-3 days.