Potato Skins with IPA Gruyere Cheese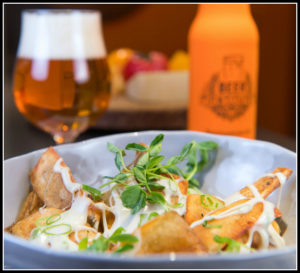 Image of Potato Skins with IPA Gruyere Cheese taken for the Beer Institute. Recipe was created by Chef Laurent Aubel.
Ingredients
4 Idaho potatoes, small
1 shallot, medium size, finely chopped
1 tablespoon butter
4 green onions, thinly sliced
1 pound gruyere cheese, shredded
½ cup IPA beer
1 tablespoon all-purpose flour
Salt and pepper
¼ teaspoon Thyme, chopped
Canola oil
Preparations
Bake Potatoes – Preheat oven to 400° F.  Scrub potatoes clean, pierce potatoes with a fork and bake in oven for approximately 50-60 minutes. Remove from oven and allow to cool enough to handle.
Potato Skins – Slice cooked potatoes length-wise in fourths.  Scoop out some of the insides of the potato. Heat oil in a deep pot to 350° F. Fry potato skin pieces until golden and crisp, approximately 4 to 5 minutes. Remove and place on a rack to drain excess oil.  Serve with Gruyere Dip.
Gruyere Dip – Over low heat in a medium sauce pan add butter, shallots and thyme cooking until golden in color. Sprinkle in flour and cook for an additional 3 minutes. Add IPA beer and the Gruyere and continue to cook over low heat until you obtain a smooth texture. Add sliced scallions and stir. Remove from heat and pour into a small serving bowl.