K[no]w Barley, K[no]w Beer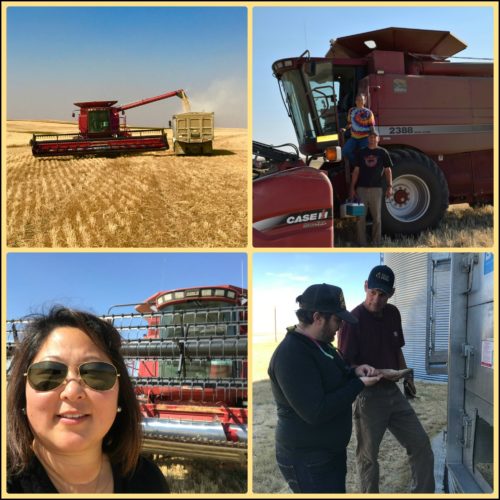 What is big sky country? This past August, I—along with my colleague Joe Heaton—the Beer Institute's director of federal affairs–traveled to Sunburst, Montana to lend our hands as part of the annual barley harvest. If you've ever been to Montana, you know that the clear blue sky stretches along the horizon for miles. And at night, the sky turns into a blanket of twinkling stars.
The first thing I noticed when we landed in northwest Montana was the expanse of the Rocky Mountains, filled with wildlife and snow-capped mountains. As we weaved our way through Glacier National Park to Sunburst, we were struck by the beauty of the land, filled with cattle and agricultural crops from garbanzo beans to wheat to soybeans and barley.
We were honored that barley farmers Adele and Lyle Benjamin—owners of Skookumchuck Ag—welcomed us into their home and trusted us enough to work with them for a few days during the barley harvest. Sunburst is a small town located eight miles from the Canadian border and has a population of 338 residents. For the residents of Sunburst, farming is more than a job; it is a way of life.
A farmer's day begins bright and early. However, during the weeks of the barley harvest, that bright and early start often stretches well into the night. On our first morning on the farm, before we went into the fields, Lyle educated us on how barley is grown, harvested, and dried. We witnessed first-hand the science that goes into ensuring barley is ripe for harvest – including guaranteeing that it is harvested at just the right plumpness and dryness.
Lyle's passion for farming was also evident in who he brought in to help with the harvest. Lyle is a law enforcement veteran, and his entire family values law enforcement and military veterans. During harvest, Lyle hires veterans to work with the family in the fields, both providing employment and an opportunity for veterans to connect with one another.
I spent part of my day riding in the combine, where I heard about the farm bill and why it is important to the farming community. Because of my time on the farm I have a greater understanding and appreciation for crop insurance and how it provides for American farmers and their families when damage occurs due to disease, fire, hail, and drought. We also talked about transportation issues – such as the arbitrary federal maximum weight for trucks, which includes the trucks that farmers use when transporting their agricultural goods. I shared with Lyle how changing the federal laws to allow for a maximum gross weight of 91,000 pounds with an additional axle would be beneficial because it would enable barley farmers like him to safely carry more barley in his trucks, resulting in fewer trips, less time spent hauling grain, lower fuel costs, and more time dedicated to tasks on the farm.
And what will stay with me is how farming truly is a tight-knit community that takes care of one other. Lyle shared with me how they help each other out when emergencies come up during harvest, including cooking casseroles for each other and taking them to their homes (which are several miles apart from one another) when a neighbor is in need. Another time when a neighbor suddenly passed away, the farmers came together to make sure their crops were harvested. Listening to someone tell you how they would finish their day's work, then travel to a neighboring farm, and then put in another day's work helping their neighbor is truly remarkable.
Farms like Skookumchuck Ag account for the more than 2.3 million acres of barley that were planted in the United States in 2017, producing approximately 140 million bushels of barley. Three-quarters of the U.S barley production will be transported to malted barley facilities to be used to brew your favorite style of beer from lagers to pilsners to IPAs.
Each time I raise a glass, I toast the hard-working men and women like Adele and Lyle Benjamin because, without barley, there is no beer.