Chicken IPA (hoppy and bitter)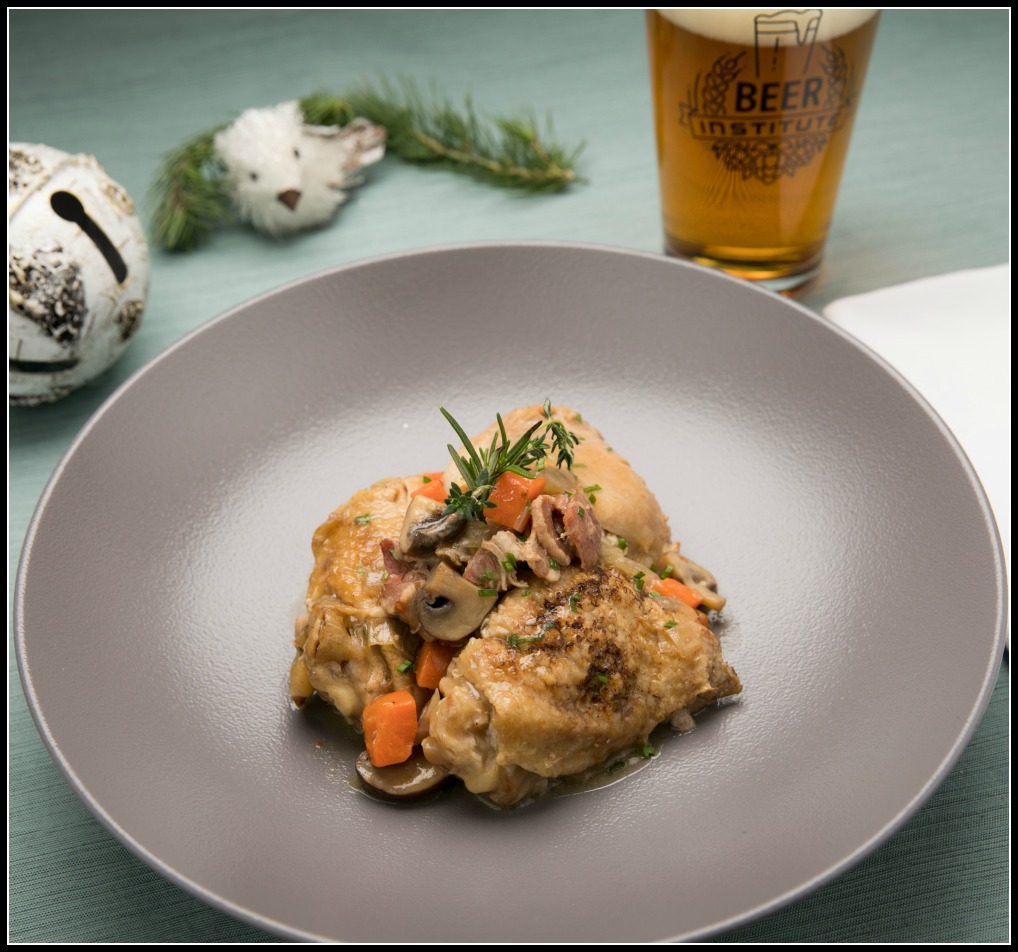 Ingredients
1 Tbsp. extra-virgin olive oil divided
5 skin-on, bone-in chicken legs or thighs
12 ounces thick-cut bacon, cut crosswise into 1/4″ slices
2 large carrots, peeled, chopped ¼ inch cubes
3 celery stalks, peeled, chopped ¼ inch cubes
1 onion, chopped ¼ inch cubes
16 ounces IPA (hoppy and bitter)
1/4 cups all-purpose flour
16 ounces chicken broth
1 small bunch thyme
1 small bunch rosemary
1 lb. cremini mushroom cleaned, cut into quarter
Preparation
In a Dutch oven over medium heat, cook bacon, stirring occasionally.  Cook until nice and crispy.  Remove bacon and place on a paper towel lined plate.  Drain remaining bacon grease from Dutch oven.
Add olive oil in a Dutch oven over medium-high heat. Season the chicken with salt and pepper. Sear chicken for 5-6 minutes per side.  Add bacon, carrots, celery, onions, mushrooms and fresh herbs.  Cook until golden. Add the IPA (hoppy & bitter).
Bring to slow boil until juice is reduced by half.  Using some of the chicken broth dissolve flour, creating a slurry, add slowly.
Add remaining chicken broth and bring it to a slow boil.
Transfer to Dutch oven and braise until chicken is tender, about 1¼ hours at 325 degrees F.