Lager Lobster Macaroni and Cheese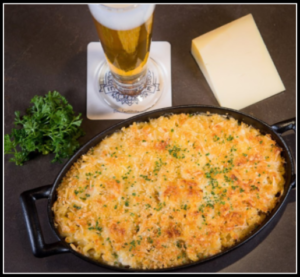 Image of Lager Lobster Macaroni and Cheese taken for the Beer Institute. Recipe was created by Chef Laurent Aubel.
Ingredients
1 lb. elbow pasta
2 fresh lobsters
2 shallots, minced
2 garlic cloves, minced
2 springs fresh thyme, finely chop
2 cups heavy cream
2 Tbsp. butter
1 cup gruyere cheese, shredded
1 cup white cheddar, shredded
1 cup lager
1 Tbsp. fresh parsley, finely chopped
1 cup panko bread crumbs
1 Tbsp. Old Bay seasoning
½ lemon
2 Tbsp. extra-virgin olive oil
Salt and water
Preparations
Preheat oven to 375 degrees F.
Over high-heat, bring a large pot filled with water and a pinch of salt to a boil.  When boiling, add dry pasta and cook approximately 8 minutes or until al dente.  Drain pasta and drizzle with a little olive oil to keep it from stick, set aside.
Over high-heat, bring a large pot of water, lemon, and Old Bay to a boil.  Add the lobsters head first into the pot and cover.  Return water to a low-boil and steam lobsters for approximately 7 minutes per pound. Lobsters will be bright red when done.  Remove lobsters and put them in ice water.  Remove the meat and cut into bit sized pieces.  If possible, save a couple of the larger pieces of lobster shell.
In a saucepan over medium heat, add olive oil, shallots, garlic, thyme, and lobster shells, cooking for 3-5 minutes.  Add lager beer and let reduce for 3-5 minutes and then add cream.  Simmer over medium-heat for 20 minutes.  Strain mixture (removing lobster shells) and transfer to a sauce pan adding gruyere and cheddar, combine until smooth (additional heat may be required).  Season cheese sauce with salt and pepper to taste.  Add lobster and macaroni until combined.
In a 9-inch x 13-inch pan, add macaroni mixture. Sprinkle with panko crumbs and bake in the oven for 15-20 minutes or until the top is golden brown.  Just before serving, sprinkle the fresh chopped parsley.