Margherita Pizza with Lager Crust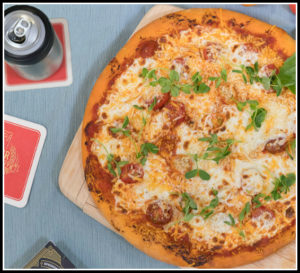 Image of Margherita Pizza with Lager Crust taken for the Beer Institute. Recipe was created by Chef Laurent Aubel.
Dough ingredients
1 cup hot water
1 cup milk
1 cup lager
4 cups flour
¼ cup extra virgin olive oil
1½ Tbsp. salt
1½ Tbsp. dry yeast
Pizza topping ingredients
½ cup pizza sauce
½ cup shredded parmesan
½ cup shredded mozzarella (can you fresh if desired)
½ cup heirloom cherry tomatoes cut in half
Preparations
Preheat the oven to 450° F. (Don't skip this step, it's important the oven is hot before you start cooking the pizza).
In a medium bowl, dissolve yeast and in warm water. Let stand until dissolved about 10 minutes (will resemble a creamy texture). Stir in flour, salt, olive oil and lager until smooth. Let rest for 5 minutes. Turn dough out onto a lightly floured surface and roll into a round. Transfer crust to a lightly greased pizza pan.
Top the pizza
Add pizza sauce onto the center of the pizza and use the back of the spoon to spread sauce almost to the edge (leave about a ¼ inch). Sprinkle cheese and tomatoes on top and bake in preheated oven for 15 to 20 minutes. Remove and let the pizza cool for 5 minutes before serving.