Porter Braised Lamb Shank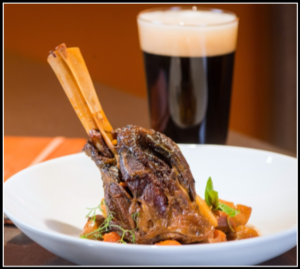 Image of Porter Braised Lamb Shank taken for the Beer Institute. Recipe was created by Chef Laurent Aubel.
Ingredients
4 lamb shanks
2 Tbsp. extra-virgin olive oil
4 cups veal stock
3 cups porter (chocolate)
1 large onion, peeled and sliced ¼ inch cubes
1 bunch baby carrots, trimmed, peeled and cut in half lengthwise
3 celery stalks, chopped in ¼ inch cubes
1 fresh rosemary stalk
1 fresh thyme stalk
1 lb. potatoes, cut into ¼ inch cubes
2 bay leaves
2 Tbsp. tomatoes paste
Salt and Pepper
Preparation
Preheat oven to 320 degrees F.
Heat olive oil in a large pot or Dutch oven over medium-high heat. Season lamb shanks with salt and pepper and then sear for 3 minutes or until brown on each side.  Transfer shanks to a plate to rest.
Add onion, carrots, celery, potatoes and sauté until golden brown, 8-10 minutes.  Add in lamb shank and cover with porter and veal stock.  Season with rosemary, thyme, and bay leaves. Cover with lid and places in oven for 3 hours at 320 degrees F.  When the shank is ready remove them from the cooking juice put them in a tray, reduce the cooking juice until you obtain a thickened, gaze constancy.
Before serving, remove bay leaves and thyme and rosemary stalks.  Season with salt and pepper as desired.