Roasted Pumpkin with Pumpkin Ale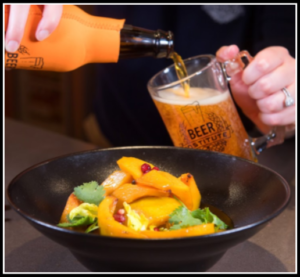 Image of Roasted Pumpkin with Pumpkin Ale taken for the Beer Institute. Recipe was created by Chef Laurent Aubel.
Ingredients
2 lb. pumpkin, peeled and cut into 1-inch cubes
2 Tbsp. extra virgin olive oil
½ tsp. ground coriander
1 Tbsp. lemon juice
½ tsp. dried thyme
½ tsp. ground fennel
1 Tbsp. rice vinegar
1 Tbsp. honey
½ cup pumpkin ale
Pinch of smoked paprika
1 tsp. salt
1 tsp. freshly ground black pepper
1-2 cloves garlic, diced
1 shallot, diced
Fresh cilantro
2 Tbsp. pomegranate seeds
Preparation
Preheat oven to 375 degrees F.
In a medium bowl add olive oil, lemon, rice vinegar, pumpkin ale, honey, shallots, garlic, and spices (ground coriander, thyme, fennel, and smoked paprika).  Whisk together for one minute. Place cubes of pumpkin onto a foil lined baking pan.  Pour mixture over pumpkin, turning until they are evenly coated.  Cover with aluminum foil and roast in the preheated oven until the pumpkin is tender and lightly browned, 30-40 minutes.
Transfer pumpkin to a shallow plate, adding pomegranate seeds and fresh cilantro.