Beer Wins the Super Bowl…Again!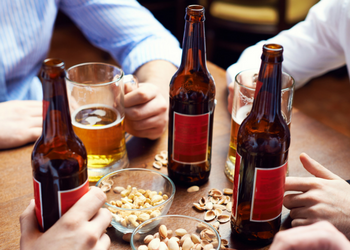 The Super Bowl is one of the most popular beer holidays of the year. It is perfectly timed, during that mid-winter lull, offering a fun break to the typical Sunday evening routines. We gather with friends and family, enjoy snacks and a favorite beer, and watch one of America's most iconic games.
Super Bowl Sunday is a big day for beer, and this year should be no different, with drinkers claiming beer as the best beverage to drink while watching football. In a recent Morning Consult survey conducted on behalf of the Beer Institute, nearly three-fourths of U.S. adults (age 21+) said they are likely to tune into Super Bowl LVII on February 12th. And what pairs best with football? Beer was the clear winner. More respondents claimed that beer is the best beverage to pair with football compared to any other drink.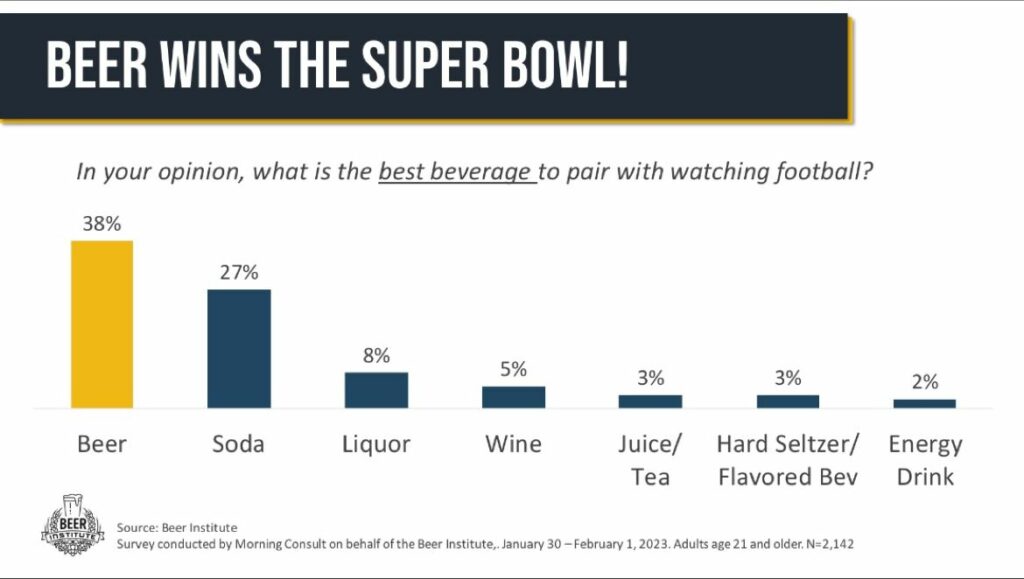 Retail sales also show that the Super Bowl is big for beer. Last year, NielsenIQ reported more than $1.6 billion in retail sales for beer during the two weeks leading up to the Super Bowl. That boost is even bigger in host cities. In 2022, when Los Angeles hosted the big game, beer sales were 8% greater than typical sales in LA during the weeks leading up to the Super Bowl.
We also asked respondents what snacks they are most looking forward to eating during the Super Bowl; it's no surprise that all answers pair perfectly with an ice-cold beer. Check out our Cooking with Beer series if you're in need of a last minute recipe!
Chips and dip (58%)
Pizza (51%)
Salty snacks (50%)
Chicken wings (45%)
Nachos (33%)
Burgers or hot dogs (30%)
Vegetable platter (24%)
BBQ (18%)
Fried chicken (18%)
Chili (12%)
When it comes to choosing the best beer for the game, taste is by far the most popular consideration among drinkers. Brand familiarity is the second most important factor, with style of beer, price and alcohol content (ABV) being less important.
In summary, regardless of gender, age, race, region, or political affiliation, beer is considered the ultimate beverage to pair with watching a football game – proving once again that beer is America's favorite beverage alcohol. So whether you plan to invite your friends over or meet at your favorite local bar to watch the big game this weekend, make sure the beer is cold and the snacks don't run out. And as always, please remember to drink responsibly. Cheers!