Bacon Wrapped Scallops with Lambic Glaze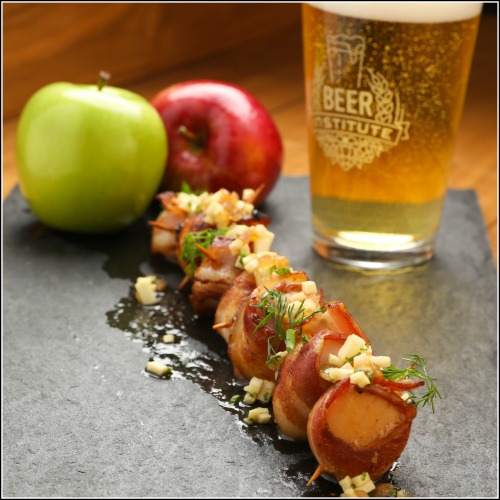 Ingredients
12 scallops
12 bacon strips
Glaze Ingredients
¾ cup Lambic (apple flavor recommended)
1 Tbsp. agave
1 Tbsp. rice vinegar
1 green apple, peeled and diced (add lemon juice to preserve color)
½ lemon, juiced
Preparation
Preheat the oven at 375 degrees F.
Slice the bacon strips in half crosswise. Wrap each scallop with one of the half-sliced pieces of bacon. Secure the scallop with a toothpick. Place on a foil-lined baking sheet and bake for 10-12 minutes, until cooked.
For the glaze: In a small sauce pan over medium heat, add all glaze ingredients except diced apple.  Bring glaze to a slow boil and reduce (glaze should cover the back of a spoon).  Cool glaze thoroughly and add diced apple.
To serve, place scallops on a plate and drizzle with apple Lambic glaze.