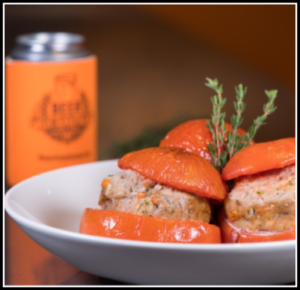 Image of Stuffed Tomatoes taken for the Beer Institute. Recipe was created by Chef Laurent Aubel.
Ingredients
4 large ripe tomatoes
½ lb. pork, ground
½ lb. veal, ground
2 shallots, peeled and finely chopped
2 garlic cloves, peeled and finely chopped
1 small carrot, peeled and cut into small cubes
½ celery stalk, cut into small cubes
1 Tbsp. tomato paste
2 sprigs of fresh thyme, finely chopped
2 bay leaves
4 tsp. white rice, uncooked
¾ cup lager beer
¾ cup veal or chicken stock
1 Tbsp. extra-virgin olive oil
Salt and pepper
Preparation
Preheat oven to 320 degrees F.
Horizontally, remove the tops of four large tomatoes and spoon out pulp and seeds. Set top pieces aside.  In a bowl, combine minced pork and veal, garlic, shallots, carrots, celery, thyme, tomato paste, salt and pepper. Mix until all the ingredients are well combined.
Fill each tomato with 1 teaspoon of white rice, then add meat mixture. Do not overfill but place tomato top on each one for baking.  Heat olive oil in a Dutch oven over medium heat.  Add tomatoes and sear bottoms for approximately 5 minutes.  Add bay leaves, beer, and stock bringing it to a boil.  Remove from heat and place in oven.  Bake for 45 minutes.